Gerardo Alcala
New Orleans born flamenco guitarist Gerardo Alcala is one of the few foreigners to be respected as a full-fledged flamenco artist by the gypsy flamencos of Andalucia, among whom he lived the authentic flamenco lifestyle for many years.
He learned his art from the masters: Rafael el Aguila, Parilla de Jerez, Niño Jero, Rafael el Alarcón, Eduardo de la Malena, and Pedro Bacan. In the intimate closed-door sessions, or juergas, where the pure soul of flamenco, el duende, can surge forth in all its savage beauty, he has spent countless hours accompanying great gypsy singers such as Agujetas, Gitano de Bronce, El Garbanzo, El Monea, Salmonete, Chato de la Isla, Dolores, Antonio, Luis, Diego, El Gordo, and Paco Agujetas, and many others.
He has performed professionally in major theaters on three continents, including Carnegie Hall, as well as for television, radio, and film. In the U.S. he toured extensively with the Spanish dance companies of Jose Molina and Teo Morca, and did many recitals wight the legendary Anzonini del Puerto. In Spain he performed wight the all-gypsy company of Fernanda Romero and has had a particularly long and close relationship with the Agujetas family, including Manuel Agujetas, who has preserved the deepest and purest singing in Spain. With them, he was featured as sole accompanist in the prestigious Circulo de Bellas Artes in Madrid and the Dutch film "Duende."
In 1990 he was honored to become the first North American ever to be contracted to perform as a soloist in the Bienal de Sevilla, Spain's most important flamenco festival. In 1998 he accompanied Luis Agijetas on his CD "Entre to Tierra Y La Mia." In 2000, he appeared accompanying Luis, Diego, and Paco Agujetas in the film "El Turista Soy Yo." In 2002 he was first guitarist at Mexico's most important tablao, "Gitanerias," and did a tour of Spain and France accompanying the singer, Dolores Agujetas.
Gerardo performs both as a solo guitarist and with his group, Flamenco Alcala. He is based in Vancouver, BC.
Marisela Fleites
A Cuban born dancer of Spanish descent, Marisela Fleites started dancing flamenco and Spanish dances at the age of 5, and has studied in Cuba, Spain, Mexico and the USA with masters like Olga Bustamante, Orlando Vargas, Stella Arauzo, Mari Carmen Guerrero, Oscar Nieto, Timo Lozano, Teo Morca, Citli Ocampo, Patricia Linares, Adriana Maresma, María Chacha Bermúdez, Belén Maya, and many others. Ms. Fleites directs the performing group Sabor Flamenco. She holds a Ph.D. in Romance Languages and Literature and teaches Spanish and Latin American Studies at Green River College. Ms. Fleites has been teaching flamenco at several studios in the Northwest like Washington Contemporary Ballet, Puget Sound Dance Academy, Metropolitan Ballet of Tacoma, Harbor Dance, etc. She also taught for the Tacoma Metro Parks Recreational and Educational programs from 2003-2007. Ms. Fleites is the choreographer and director of Sabor Flamenco and has produced many shows including shows at Tacoma Little Theater and the Tacoma School of the Arts. She has done volunteer work with Public Schools, Guadalupe House and other non-profit institutions, teaching and performing Flamenco for educational and fundraising purposes. Fleites-Lear is also the chair and founder of the Tacoma-Cienfuegos Sister City Committee.
Fleites has performed extensively in Cuba and in the USA. The links below provide reviews and information about some of these performances. Marisela was featured for the "On Stage" section of the OnTrack Magazine (Spring 2016). In 2013 Marisela organized a Tacoma Flamenco Festival that brought renowned Flamenco artists to our community, notably Teo Morca, Gerardo de Alcala and Vicente Griego. The three performed with Ms. Fleites at the University of Puget Sound Norton Clapp Theater to a sold out audience, provided a free workshop to the public and organized classes for the community. In November 2015 Fleites performed with Griego and Alcala for the Classical Tuesdays in Old Town series, for an audience of more than 250. She has done solo performances at the Harbor Museum (accompanied by guitarist John Bussoletti and Flamenco singer Samir Osorio), the Gig Harbor Public Library, the University of Puget Sound and other local and regional venues. She was selected as resident artist to choreograph the Spanish dances for the theater production of "The Force of Habit" in 2015 (University of Puget Sound). She is the director of the performing group Tacoma Flamenco (https://www.facebook.com/Tacoma-Flamenco-308815072481295/ ). Together with world renowned Native American Flute Player Gary Stroutsos, Ms. Fleites created the choreography "Encuentro," a reimagining of the encounter between Spaniards and Native Americans through music and dance, rather than genocide and conquest. This was performed at the Panorama Theater and at the Mount Tahoma High School Theater in 2015. Ms. Fleites performs monthly at La Gitana in Olympia.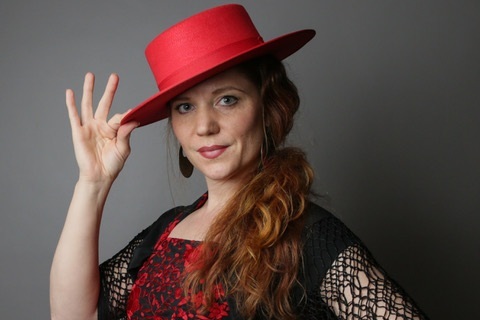 Ashley Cook
Ashley began her flamenco journey as a clarinet performance major at University of New Mexico, where she found herself in Eva Encinias-Sandoval's beginning flamenco class and was immediately bitten by the flamenco "bug." After returning to the Northwest she continued her studies under the inspiring and loving guidance of Marisela Fleites-Lear in Tacoma, WA, and now currently with Ana Montes in Seattle, WA, in addition to attending workshops and master classes with visiting artists in Seattle and attending the Festival Flamenco Albuquerque many times.
As a classical musician, the aspects of flamenco that are most exciting for Ashley are the improvisatory and sometimes unpredictable interplay between the singer, guitarist, and dancer, as well as the cathartic experience that this incredible art form facilitates for both the audience and the performers. In 2010 flamenco was declared by the United Nations Educational, Scientific and Cultural Organization (UNESCO) to be an "Intangible Cultural Heritage of Humanity." The UNESCO declaration describes flamenco cante, or song, as expressing "…the gamut of feelings and states of mind- grief, joy, tragedy, Rejoicing and fear…through sincere, expressive lyrics characterized by brevity and simplicity."
A longtime participant of Bach Fest, Ashley is thrilled to be able to present flamenco to the Bach Fest audience for the first time, and would like to thank the festival and her friends colleagues both in the festival and in the flamenco community for making this event possible. !Ole!
Jafelin Helten
Jafelin Helten - (Venezuela) Flamenco singer
Today Jafelin is one of North America's preeminent Flamenco and Latin singers. She is also popular in Vancouver's local scene performing with all flamenco groups for almost 20 years. In 2015, Jafelin co-produced the popular concert tour, "FlamenCubana!" where she performed with 12 great Spanish Flamenco and Cuban artists to the delight of audiences in Vancouver, Victoria and Nanaimo.
Passionate about Flamenco, Jafelin has continuously studied or collaborated with the highest caliber of Flamenco artists and aficionados from Spain and internationally to deepen her knowledge and understanding the essence of cante and baile. She has the honour of being recognized and accepted as an international flamenco cantaora in Spain, a position very difficult to attain. She has performed in Peña Canaleja with Miguel Angel Ramos from Puerto Real and other tabancos in Jerez. Tabancos like El Pasaje and El Guitarrón, and in Granada, Cueva Maria La Canastera. Jafelin is the founder and international ambassador for the popular worldwide flamenco website ExpoFlamenco.com which promotes the flamenco art form and connects flamenco lovers and communities around the globe. She has earned recognition in Mairena del Alcor, Spain from the Ayuntamiento de Mairena del Alcor for the work of promoting flamenco world wide. She has been invited to participate in Concurso de Cante in Spain annually. She made her recording debut with guitarist, Juan de Maria's "Mimbre". Her own albums can be found on streaming services worldwide. "Tantos Caminos", is a flamenco compilation with guitarist Gerardo Alcala and "Algo De Mi", a latin jazz boleros compilation and "Cantos y Memorias de mi Gente", a collaboration with the unique international Cuban band, Brisas Del Palmar, recorded in Santiago de Cuba.